Regular Social Dancing in Torbay
with Dancing Duo — Henry & Jeannie Clark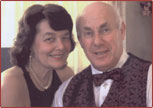 For the last 14 years, Dancing Duo Henry and Jeannie Clark have delighted the dancers of Torbay – and way beyond – with their programmes of weekly dances, special events and Dance Holiday Breaks.
What started as a hobby has evolved into a busy career for the enthusiastic couple, whose first priority is to provide the pleasure of quality ballroom, Latin and sequence for their dancers.
Dance Holiday Breaks
Annual dance holiday breaks have proved very popular at various quality hotels - all dancers' favourites and all in coastal locations:
Only the best hotels with spacious ballrooms are selected - a policy which has paid off in popularity right from the start. And great deals are offered for these exceptional value holidays.
Henry and Jeannie are renowned for offering the best dance music available and great atmospheres created by theme nights and the friendly outgoing nature of the hosts and their regular supporters. Visiting groups are always made to feel very welcome.
As a result, worthwhile numbers of dancers join them at up to 6 different venues , with 2 a year now at the most popular resorts: Dawlish & Bournemouth. Nowadays they include people from all over the country, as well as those from their home territory in the south west.
Regular Social Dancing in Torquay, Plymouth & Exeter
Torquay's Livermead House Hotel
Torquay's Livermead House Hotel, on the sea front, is the number one venue where dancers gather every Thursday evening after 8pm. Occasionally other nearby venues are used.
City College, Plymouth
City College Plymouth Main Hall is the popular setting for dancing on alternate Saturdays — a very big ballroom and well-appointed.
Exeter Corn Exchange
Exeter Corn Exchange (formerly St Georges Hall) is a favourite venue for dancing on Selected Saturdays when this big hall, with an ideal dance floor and full scale bar, is available (see listing).
Exmouth Pavilion & Sidmouth's Stowford Centre
These have also been added and are venues for weekend dancing monthly on Saturdays when available. Check our programme.
Private Dance Functions
Dancing Duo can also be booked for private functions and special celebrations.
Just phone 01803 325 905 to enquire about dance dates or availability to run private functions.
Our FESTIVE SEASON BALL — evening wear with sparkle & glitter — has been booked for:
Saturday Dec 27th 2014 at EXMOUTH PAVILION
Tickets on the door &pound10. Free Parking.
Our 2014 NEW YEARS EVE BALL will be held at
Stoke-in-Teignhead Community Centre (near Torquay) — evening wear preferred
Light refreshments will be provided
Car parking is free
Ticket price to be confirmed